How can a baby have a due date? It's not a library book.
"Let yourself into the experience. See the baby and you together birthing. Am I clear, dear?"
My Francophone midwife tries to get me out of my head.

She always apologizes, even though I am the one who needs her to speak English in a French province. Her linguistic oscillations provide a multiplicity of meaning that is as much meditative as informational. Baby and I will birth each other, together, eventually.

"I just don't feel the baby is coming out anytime soon." I repeat, because I decided to forgo a dating ultrasound, and the baby 'due date' is in one inaccurate day.

How can a baby have a due date? It's not a library book. What's the overdue fine? The Montreal Library system has stopped fines but after four days your card gets blocked; you cannot place holds or take out new books. You only have access to what is already in your hands. I am constantly in arrears with the library.

With my inability to keep time, I am fortunate not to be followed by a ob/gyn in a hospital. Otherwise, I would have to have an induction at 39 weeks the latest because of my age (and nothing else) if the baby didn't come out by then (it didn't). An induction can often lead to an unplanned c-section. There is no tolerance for a woman's body and its process of horticultural time. The induction and c-section are blanket preventatives of a medical model that supposes women of certain age are plants with decaying placentas and will kill their unborn children. Instead of being used as useful and necessary medical procedures based on evidence in situ. We should have access and knowledge of the many ways to birth a baby and then make our choices—not be handled as receptacles, as wombs not humans.

"As long as the baby is ok," echoes in obstetrics wards.

The calendar's perforated pages are stuck.  
A plant during the dry winter months moves closer to a south facing window.
My growing belly marks the stretching of time.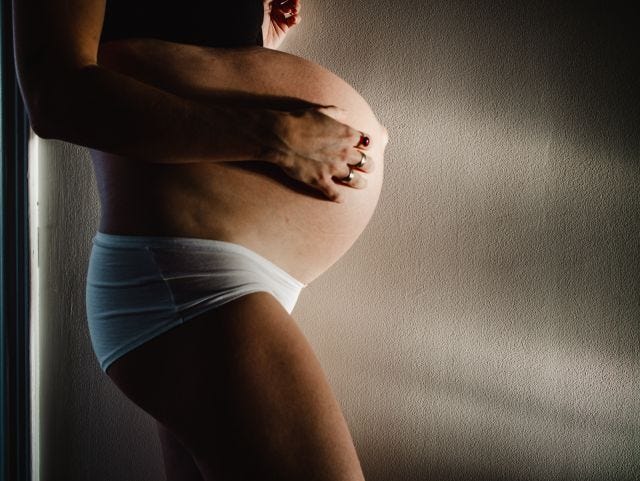 Four days later I receive my first of four sweeps—a loosening of my amniotic sac from my uterus— and am sent home to "prepare" myself as a birthing body.

S— comes over to my desk seeing me pump as I bob up and down on my birthing ball. He inspects the pump, the nipple shield, and my contracting elongated nipple in it, back and forth, back and forth.
"I don't think this is gonna work. If the sweep didn't work, then this won't work. If the sweep worked, then the pumping would work too. It's gonna come out on its own time."
"You really think so?" I ask.
"Yes. Do you want to force it or do you want it to come out peacefully?"
"Peacefully."
"So then it won't come today. Maybe next week or next year."

I follow his intuitions about time, as always. He was also born of my body "overdue."